The beautiful town of Kaza is located at an altitude of about 12,500 ft., on the left bank of the Spiti River in the majestic Lahaul and Spiti Valley of Himachal Pradesh. It is known as the sub-divisional headquarters of Spiti and the largest township in the Lahaul and Spiti Valley, which is one of the most beautiful valleys of Himachal Pradesh. Kaza is surrounded by high mountains, crystal clear river & streams, and barren landscapes interspersed with green landscapes and meadows. It is a marvelous destination, which houses several beautiful palaces, monasteries, gompas, and other historical buildings
You May also Like :- Vashisht Temple & Hot Water SPRINGS Manali,(H.P)( वशिष्ठ मंदिर और गरम पानी)
Best Time to Visit:-
Summer season

is the best time to visit Lahaul and Spiti which starts from May and lasts till the month of October.
Kaza can be best visited in summer as the winter is quite severe with the temperature plunging to sub-zero levels. The locals remain within the confines of their houses and venture out only if it is absolutely necessary. They stock up the supply of their food that last them through the winters; the locals also utilize their time to produce handicrafts that can be sold during tourist season i.e. summer. There are many hotels and restaurants at Kaza, so one can stay comfortably and enjoy a holiday worth remembering.
Kaza makes for an ideal base camp for all the treks and tours within the valley and provides guides, porters, and most importantly permits for treks.
Related Post:- Some Photos to Inspire You to Visit Spiti Valley-A glimpse of Heaven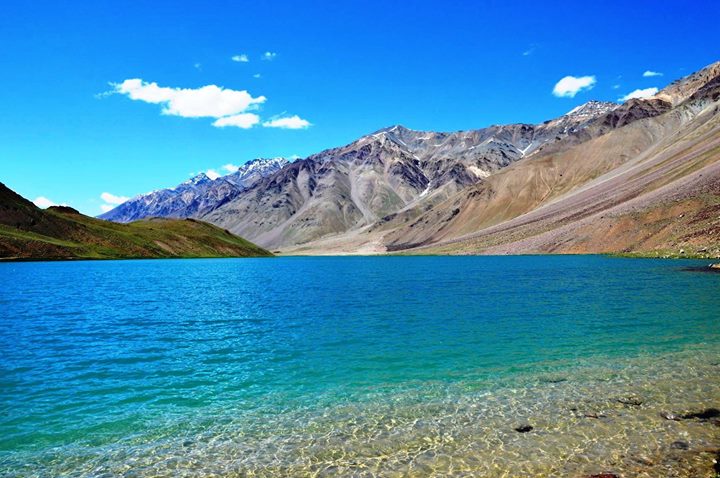 Related :- Himachal: A Photo story
This slideshow requires JavaScript.
Weather and Climate:-
The weather of Lahaul and Spiti remains moderate and pleasant during summers which start in May and stretches till the mid month of October. During monsoon season, there is little or no rainfall in these regions. The weather remains dry and enlivening. The days are quite hot and nights are extremely cold. In winter season i.e from November till the end of April, there is heavy snowfall and the temperature goes down. The average snowfall in this season is about 7 feet.
Other  Beautiful Places to Visit In Himanchal Pradesh:-